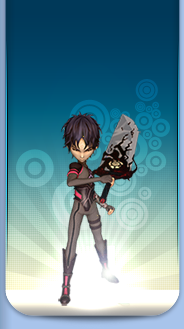 Episode guide
A Code Lyoko comic:
An unaired story dedicated to Yumi and the Subdigitals.
The comic starts at a Subdigitals concert.
After the show, the stars choose three people from the audience to become finalists. The winner will appear in the next Subdigitals clip.
The nominees are… Sissi, Yumi and another girl, Fleur!

Yumi is apprehensive about this rapid entry into stardom, but when she finds out that her friends think she's more serious than fun, the Japanese girl becomes annoyed and decides to prove to them that she can be fun.

During the audition, the girls must present themselves. Sissi is at ease and brags about her life. Fleur is very nervous and Yumi doesn't find anything to say except her name. When the Subdigitals present themselves, Sissi jumps into their arms as her competitors look exasperated.
The three girls must then dance, and Yumi is first up. Her performance is impressive, the Japanese girl inspired by fights on Lyoko. Jealous, Sissi arranges for a pot of paint balancing on a plank above Yumi to fall…she dodges.

When she's ready to attack the principal's daughter, the Subdigitals announce that Sissi has won and will be in the clip…with a partner: Paco, the King of Disco! Alias Jim.

Yumi watches on, amused, as Sissi is forced into rehearsals for a disco party with Jim.
- Attack: None
- Virtualisations: None
- Visited Sector: None
- Enemies met: None
About the characters

- Return of Paco, the King of Disco, in different clothing.
- Sissi has been taking dance classes since she was 6 and piano and singing since she was 5.

About errors

- Herve appears in this comic, among the public… But he's blond, his jumper is blue instead of green and his acne is missing.
- Nicolas appears in this comic, with Herve and Sissi… But he's brunet and his t-shrit is orange instead of sky blue.
- The heart on Sissi's shirt is absent, her headband is pink instead of yellow, her shoes and skirt are red/orange instead of dark red and her pants are black instead of maroon.

About the series

- Illustrator: Ullcer
- Colouring: Ullcer/Janse
- Supervision: Fabrice Saperlosky/Full FX

- We see other Subdigitals concerts in episode 89 "Music to Soothe the Savage Beast" and in the "Apis Sapiens" comic.
- One of the girls who was friends with Taluma, the girl Odd skated against in the comic "A True Breakage Skater!", is called Fleur. She and the Fleur in this comic share that in common as well as their hair and clothing colour, but it's unlikely they're the same person.
Odd: You're a star now.
Yumi: I don't know…

Aelita: But of course! This will be good for you. And then, you're a little too serious.
Yumi: Me? Too serious…

Yumi: THAT'S NOT TRUE! Ulrich, tell them that I'm super fun!
Ulrich: Uh…not too much, no.

Yumi: Oh yeah? You think that! Well, I'm gonna show you that I can be even more fun than all of you put together…

Sissi: Yes, me first…my name is Sissi, I'm made for this job. I've been doing dance since I was 6, and music and singing since the age of 5. I've done photos for catalogues…

Yumi: Hello, I'm Yumi. And… And…
Manger: And?
Yumi: And what more do you want me to say?! And that's all!

Yumi: You're totally crazy. Your face will be blue when I'm done with you!
Sissi: Disqualify her, this girl is completely nuts!

Ben: We have our winner, Sissi! You're going to dance with your partner…
Jim: YEAH!

Sissi: Let go of me! I refuse to appear in this clip!
Script unavailable for this episode.
(Unavailable)
Comment from TAFFOREAU - Posted on 01-04-2013 à 10:35

TROP TROP TROP TROP BIEN(spin) PS YUMI C'EST PAS UN GAGUE :lol:

---

Comment from bastrouille6915 - Posted on 05-01-2013 à 21:24

Bon épisode et bon résumé de la création de la série 8-)

---

Comment from William_fan - Posted on 22-07-2011 à 10:48

Moi j'ai bien aimé cet épisode ! Quelle cruche cette Sissi... De l'avanture, j'adore ça ! J'adore Yumi elle est trop forte (love) VIVE CODE LYOKO ET YUMI !!!!!!!!!!!

---

[ View all comments (112) / Add a comment ]